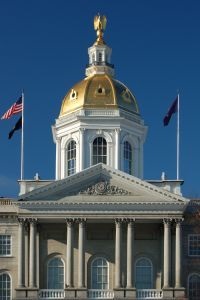 NHNPA is pleased to be participating in the NH Telehealth Alliance which is serving as an advocacy organization to advance, build and maintain telehealth efforts in NH.   We are excited to announce that in addition to our formal participation in the NH Telehealth Alliance, NPs across NH will also be represented by NHNPA on the NH Telehealth Commission established by HB 1623.  Please see an overview of telehealth provided by Jim Monahan, The Dupont Group & The NH Telehealth Alliance.
Overview
Telehealth has expanded dramatically over the past few months in New Hampshire and around the country as a means of ensuring and maintaining social distancing in health care settings. Providers and consumers have generally been very satisfied with how this has worked out.  However, the current regulatory and statutory underpinnings of this expansion are temporary, and it is unclear how to prepare for changes or the ending of the temporary regulatory regime. In addition, a consensus is rapidly developing that the system should not go back to what it was and that a bridge to a new telehealth architecture needs to be crafted.
Background
Four main regulatory areas currently guide this temporary telehealth structure:
NH Emergency Order #8 is quite broad in both its scope of consumer care and reimbursement parity; it covers many health care providers and a wide swath of services. This emergency order timeline is governed under broader state law that enables the Governor to declare a state of emergency and issue Executive Orders, but only for 21 days; however, the Executive Order can be continued.  Since March 17th, the Governor has renewed the Executive Order several times. Those extensions automatically extended Emergency Order #8. The result is that the temporary structure runs the risk of expiration every 21 days, creating concern about abrupt changes.  It is also possible for emergency orders to be amended or individually withdrawn.
Among providers and consumers, there is a desire to not return to the previous, more restrictive regulatory and reimbursement systems for telehealth.  However, it is likely that payers and some regulators may want to move back soon to a more restrictive structure. Thus, over time, the risk of Emergency Order #8 expiring or changing increases.
Many of the HHS regulatory actions and the CMS blanket waivers/suspensions, along with the 1135 waivers, are timed with the national declaration of emergency.  There is not a lot of direct impact that NH providers and consumers can have on this front, but in the weeks to come, folks can work with the Congressional delegation and State Medicaid officials to stay informed about CMS developments and offer evidence of benefits. In addition, many national health care and advocacy organizations are advocating with federal agencies and Congress to take steps to make many of the federal telehealth changes permanent.
New Hampshire Legislative Action
On June 30, 2020, the NH House passed HB 1623, An Act relative to telemedicine.
This bill provides a very strong and comprehensive State framework for the expansion of telehealth services by combining two bills that were in the legislative pipeline before the COVID-19 Pandemic began.  In addition, HB 1623 builds on NH Emergency Order #8, which was issued by Governor Sununu in the early days of the COVID pandemic and which acted as the regulatory framework to stand up the telehealth paradigm that is operating in NH today.
Specifically, HB 1623 includes the following components:
Incorporates SB 555 which deals with reimbursement parity, ensuring that providers are paid the same for telehealth care as for face to face care.

Expands the State law definitions of telehealth to include audio-only. This change allows for care over the telephone and is important to ensure that individuals without broadband or smart devices have access to telehealth care.

Provides for a very broad set of provider types and licensees to use and be reimbursed for telehealth services.

Expands the authority to provide telehealth care for Substance Use Disorder care in various settings.

Establishes a commission to work to put Executive Order #8 into law.  While this approach should be pursued, it is likely to be more easily said than done. The permanent nature of a State law will create a cascade of meaningful administrative steps for implementation and will very likely face backlash from payers. There should be some concern that, if a legislative measure advances, it will likely be subject to changes and will be heavily lobbied, potentially resulting in a law that is not as comprehensive as Emergency Order #8.
HB 1623 will advance to the Governor's desk for final action in July of 2020. It is expected that the Governor will sign the bill.  A copy of a letter to the Governor urging passage form a large group of health care providers and consumer groups is attached. The effective date of the bill is upon passage for some provisions and 60 days after passage for other sections of the bill. 
Next Steps for Telehealth in NH: Short-term, Mid-Term and Long-Term planning
Although HB 1623 offers a strong foundation for advancement, a critical part of the future of telehealth in NH will be related to how the federal agencies modify the current blanket waiver of federal regulations on telehealth and to more permanent changes that are made by CMS, as well as modifications to the HIPPA temporary changes.  The existing blanket waiver is scheduled to expire or be renewed on July 25, 2020, as part of the umbrella national declaration of emergency. At some point, a combination of potential Congressional legislation and updated CMS rules will emerge and will inform and guide application of key aspects of telehealth provisions.
Early indications from the CMS Administrator suggest that there is support for a more permanent expansion for telehealth services, but that much of that effort will require the Congress to act. In addition, some signals have been shown that suggest CMS and HHS will want to adjust issues surrounding reimbursement parity and privacy standards for telehealth platforms.
Efforts in the Congress are underway. In recent days a bipartisan group of senators, including Senator Shaheen and Senator Hassan, wrote a letter to Senate leadership calling for the permanent expansion of telehealth services implemented during the COVID-19 pandemic. In the letter, the Senators cite the need to keep telehealth services as an option, and note that telehealth use among Medicare beneficiaries was up 11,718% in just a month and a half during the pandemic. A copy of the letter can be found here.
In the months to come, HB 1623 will be implemented by State agencies, Medicaid Managed Care Companies, and commercial insurers. In addition, the Commission authorized in the legislation will be convened and work will start to consider future adjustments, changes and amendments. Important administrative rules, rate making and methods of compliance and record keeping will need to be crafted and authorized. Thus, passage of HB 1623 is just the beginning of major changes to how health care is provided in NH. These efforts will likely require an industry-wide organizing effort, as well as work in the formal governmental arena.
Share this post: